Around the villa is a small garden. In the front are herbs shaded by a large palm tree. To the side a outdoor dining / siesta / scrabble / sketching / talking table shaded by a sail and then behind the house a rockery style garden. Beneath our beloved, huge pepper tree is a small chat table.
The Front Porch
In front of the villa, is a dining porch with large table and benches. There is an outdoor BBQ for those of you who love outdoor cooking.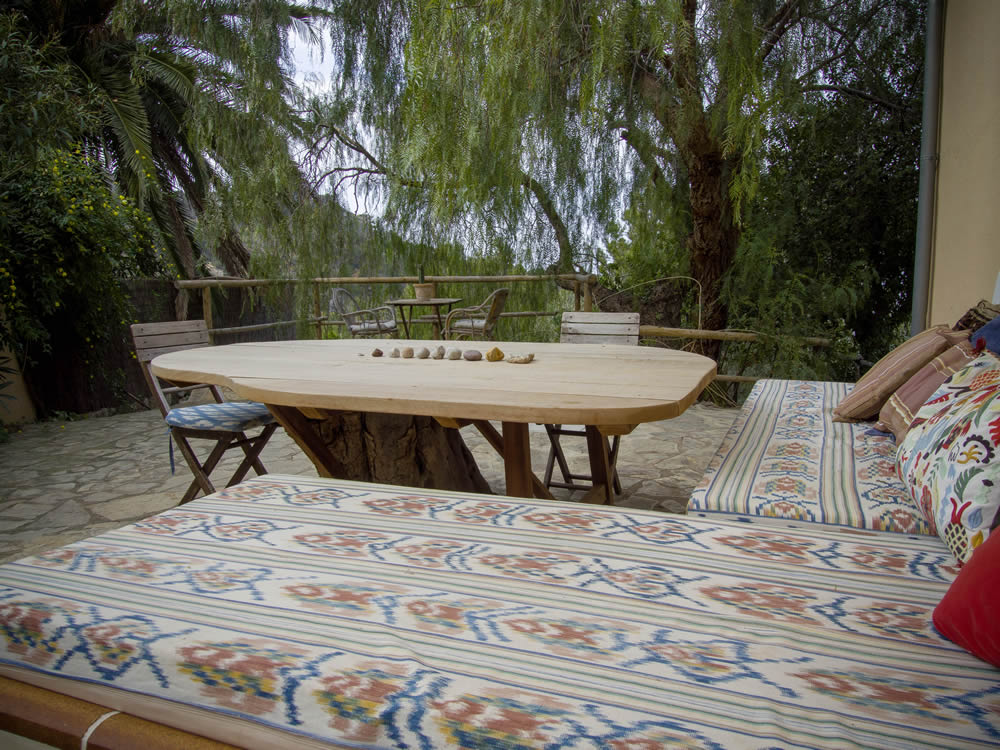 Social Outdoor Dining
If you don't want to eat under the porch, then enjoy the outdoor garden table with bench seating and cunningly set on an old tree stump. Perfect for meals, games or layout a sketch pad.
Coffee Spot
In front of the porch is a small, marble french cafe style table overlooking the sea, perfect for morning coffee or just reading the papers.
After installing the new water system in 2020, the once desiccated summer earth can play resident to some more water loving plants. The project for this year is to bed in some plants for the future. 
We have planted three very beautiful roses that should ramble and climb across a few different parts of the garden. 
We have also planted a range of herbs.
(Background image of the first chive flowers in the spring)
We all know that the small pollinators of our ecosystem are under enormous pressure. For that reason we are trying to plant as many flowering plants as possible that will provide nectar and sustenance for them throughout the spring and summer.
In Spring, our Sage bushes are a mass of flowers that invite pollinators of every size including local honey bees, masonry bees and butterflies all the way up to the magnificent hummingbird butterfly as pictured behind. All summer the lavender is in bloom and behind the house the honeysuckle should provide constant nourishment.
Enjoy watching them as they busily pollinate and provide for the next generation of plants in our beautiful corner of the island.